You'll Love These DIY Garden Shed & Structure Plans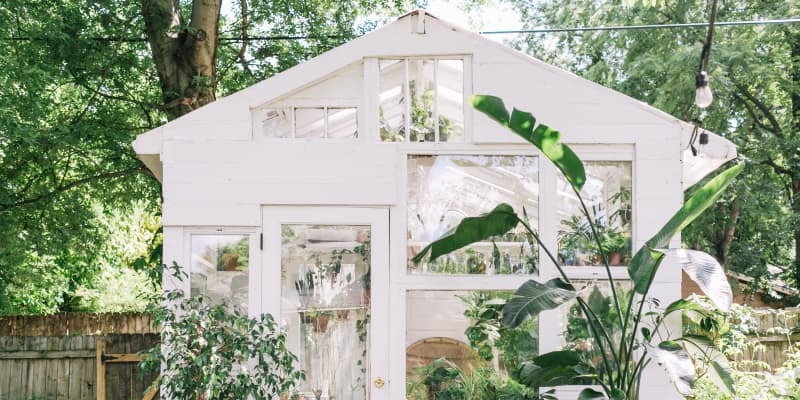 published
about 9 hours ago
We independently select these products—if you buy from one of our links, we may earn a commission. All prices were accurate at the time of publishing.
If you've been thinking about adding a structure to your outdoor space this summer — a gazebo for relaxing in the shade, perhaps a pergola for vining plants, or maybe even a backyard studio-slash-guest room — but figured it was beyond your budget, a new trend might make it possible.
Over the past few years, designers have begun offering digital downloads of plans for all sorts of garden and outdoor structures, almost all of which are less than $100 — most being way less. These plans usually include materials lists, cost estimates, level of expertise ratings, and detailed instructions. Most are also geared toward hobbyists and beginners and don't require technical knowledge or speciality tools. 
Husband-and-wife duo Jeff Waldman and Molly Fiffer are among those who sell affordable and accessible plans for modern small cabins (and other structures to help folks better enjoy the outdoors) through their company Elevated Spaces. Waldman and Fiffer first came into the public eye in 2018 for the low-impact, eco-friendly tiny house that they designed and built themselves in the Santa Cruz mountains outside San Francisco. Sadly, that cabin was lost to wildfires in 2020, but a movement was set in motion. The couple began selling the plans to the public as a way to both help recoup what was lost in the fire, and to streamline all the questions they were fielding or advice from people looking to build their own.
"We built something that a lot of folks wanted to replicate in some way," says Waldman. Elevated Spaces now offers plans and blueprints for a variety of structures, including a tree house, greenhouse, or wood shed. A recent addition to the collection is an A-frame cabin that Waldman designed specifically around the idea of approachability, from both a cost and skill-level perspective. (Materials for the beginner-friendly 10' x 12' A-frame ring in around $2,500, and most should be able to complete the project in two weekends.)
"I want people to share in the joy that we and so many in our network have experienced — the communal sense of accomplishment of having made a thing and the feeling of capability and empowerment that comes with it," says Waldman, who wants to help build people's carpentry confidence. If you're not quite yet ready to commit to a tiny cabin, don't worry. There are plenty of other, smaller-scale projects to help you get started.
Carolynne Hill, founder and designer of The Hillside Market, based in Alberta, Canada, started selling plans to build affordable greenhouses after building a greenhouse of my own. Explains Hill, "I sketched up an idea I had in my head that would be relatively straightforward to build and wouldn't break the bank." Once it was finished, Hill shared some photos of her new greenhouse to an overwhelmingly positive response. "I had many people reaching out to me asking me how they could go about building a greenhouse just like mine." She decided to package up the plans along with a materials list, cost estimate, and step-by-step guide with measurements and plenty of photos, for sale on Etsy. "We've sold more than 4,200 copies worldwide. We have greenhouses built literally all over the world! It is so incredibly cool." In addition to the original "Petunia" 7' x 10' lean-to style, Hill also offers smaller and larger sizes, too. 
An avid DIY-er and builder, Vineta Jackson has been selling plans for various home and garden buildings on her website, The Handyman's Daughter, since 2019. Jackson had launched her website four years prior to share updates and tutorials as she and her husband renovated their 1946 Cape Cod-style Seattle home. As her audience grew, readers were looking for more specific details on her projects, so she began selling detailed Sketch-Up plans (Sketch-Up is a free CAD program). Her offerings include all sorts of things, from planter boxes to potting benches, and even outdoor furniture. 
So why the sudden desire for DIY projects? Waldman has an idea: "Much of the feedback we've gotten about our projects isn't about the building itself, but about the beauty of our friend group that comes together to make that happen," he says. "I think there are a lot of people connecting to the idea of creating their own space… for practical, financial, personal, or emotional reasons."