These Are the Best Front Door and House Color Combinations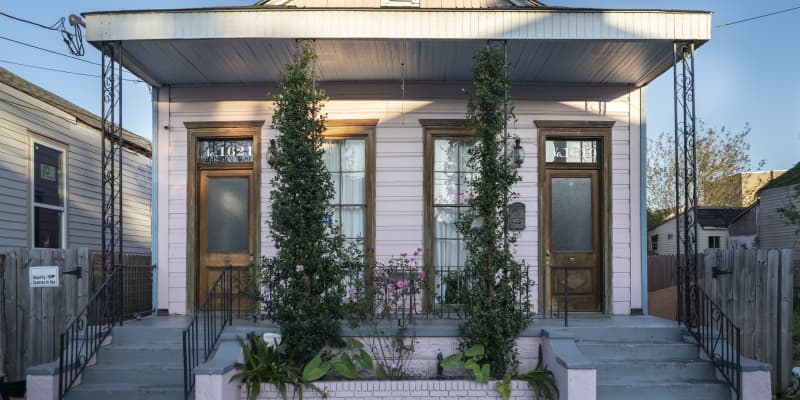 When you hear "
curb appeal
," what do you think? Landscaping and flowers and a nice driveway, right? Well, it's time to expand that opinion. The house color and
door color
you have can make a big impact on a potential sale — including the way that they look
together
. 
"When choosing a front door color, it's important to consider the rest of the house, both inside and out, including your neighborhood and surroundings," says Beatrice de Jong, consumer trends expert at Opendoor. "Since the front door is the first thing your guests, or potential home buyers, will see, I recommend choosing a color that not only complements the exterior, but also sets the tone of the interior style."
Here's what else you need to know when it comes to color combos.
Stained Wood Is Trendy Right Now
It may seem a little old-fashioned to have a plain wood front door, but it follows the trends of the moment. People are more concerned with using organic and natural materials these days, de Jong says. Plus, it brings a warmth and texture to your house that you don't typically see with paint.
Don't Be Afraid to Get Colorful
If you're a fan of Pantone colors, now is your time to shine. "Lately, I've seen a lot of red and blue (especially periwinkle-ish blue since Pantone chose it for 2021) doors," says Marie Bromberg, a licensed real estate salesperson with Compass in New York City. "I think both of these are good color choices, especially if you've gone darker on the general exterior of the house, such as medium-to-dark gray siding. With darker siding, these doors really pop, but they work well with lighter exteriors as well, especially the red."
De Jong agrees statement colors on the door can make a big impact — depending on the context.
"If your home exterior is a more neutral color like white, gray, taupe, or beige, I would recommend adding a statement color to the front door," she says. "Mint green, red, or inky black will add a pop and make heads turn, while still complementing the neutral color of the house. If your home exterior is bolder, like yellow or green, I would keep the front door neutral with a white or beige so you don't overwhelm the exterior with color."
For spring sales, yellow is an ideal color. "It's different enough that people will take a second look, and it is so inviting. … I think it's a fast and easy way to differentiate your house, and imbue good vibes on entering," Bromberg says.
Just be sure you're not overdoing it. Relegate yellow to the color of just your door, or you could face some consequences.
"The exterior color I hear homebuyers complain about most often is yellow," de Jong says. "While it's cheerful, it's always best to stick to very pale hues for the exterior of a home. So if you're thinking about repainting your entire house, keep this in mind, because you can always add a pop of color to the front door. This will also make it easier to sell your home when it comes time."