The Real Star of "Stranger Things" Season Four Is This Haunted Victorian House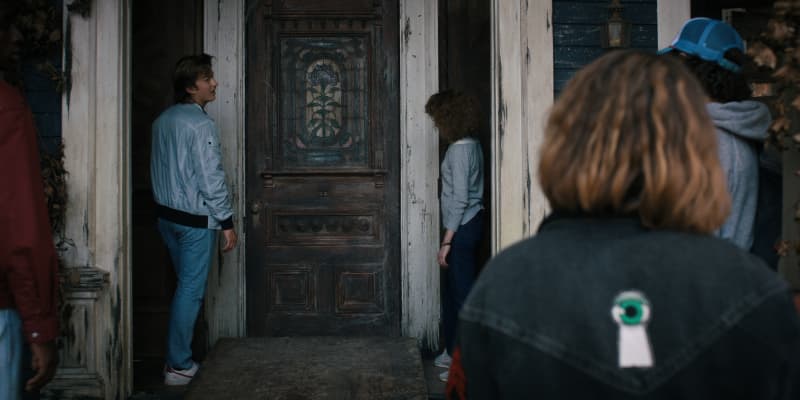 [Spoilers for volume 1 of Stranger Things' fourth season lie ahead]
The fourth season of "Stranger Things" has welcomed various new characters, but none as integral to the plot as the daunting Vecna, a towering, grotesque, human-like creature who is responsible for the deaths of numerous Hawkins residents. Of course, no villain's backstory is truly complete without a seemingly haunted home at its core — and Vecna's origins are no exception.
In true horror fashion, a Victorian-era abode acts as Vecna's homebase in both the Upside Down and in Hawkins, but "Stranger Things" viewers don't find out about the villain's connection to the dwelling until the tail end of volume one of the series' fourth season. 
Essentially, Vecna was once Henry Creel, a young boy who resided in what Hawkins locals have deemed the Creel House, a now-abandoned dwelling that is believed to be haunted. Using his supernatural abilities, Henry murdered his own sister and mother while they were having a family dinner at home one night, without so much as laying a finger on them. His own father, Victor Creel, was believed to be the murderer and is currently incarcerated at Pennhurst Mental Hospital because of this incident.
Of course, Henry knew the home was never haunted; instead, he took advantage of his powers to make it seem as though the house was to blame, thereby masking his dangerous capabilities in the process. And while the abode has since remained desolate, Vecna has been making use of it by turning it into a sort of portal to the Upside Down.
Fans of "Stranger Things" may already know that the Creel House does, in fact, exist in real life — in Rome, Georgia, nearly 90 minutes outside of Atlanta. Jess Royal, who worked as a set decorator on this season, tells Apartment Therapy how this particular dwelling came to be a part of the show, revealing, "there was only ever discussion about the house being a gothic Victorian, Second Empire/mansard roof-type of mansion." It was always meant to have a "classic horror/mystery look, like Stephen King's 'It', or 'Clue'," she adds.
Rome, Georgia locals know this abode as the Claremont House. It operated as a bed & breakfast for some years, until the home was sold in 2019. The former owners moved to this particular town "because of their affinity and love for horror and spooky things," reveals Royal — and, get this: the dwelling is believed to be haunted in real life (although, hopefully not by Vecna). 
Naturally, the Claremont House — which was built in 1882 — was transformed quite a bit for its starring role in "Stranger Things", using both special effects and design-oriented changes implemented by Royal and other members of her team. For its demolished exterior, Royal says "we aged it and made it look abandoned for the '86 right side up exterior, and then [we] added a base layer of the upside down vines, [which were] greatly enhanced by CGI for the Vecna/Upside Down version." She adds that this is how most large exterior sets are transformed for the Upside Down, with the SFX department creating "a base layer of vines so [that] the FX department has a good starting point for their post-production CGI work."
As for the home's interiors, both man-made sets and the actual abode were used, with the entire house interior being rebuilt on a soundstage, mainly to be used for its abandoned look in 1986 and the Upside Down scenes. "We also seriously transformed the actual interior of the real house, for all of our 1950s flashbacks, [which] we shot in the downstairs area," explains Royal. 
When it came to decorating the Creel House, Royal opted for a nod to a celebrated textile designer that many decor aficionados are likely familiar with: William Morris. "Sean [Brennan] and Chris Trujillo (art director and production designer) and I are all big fans of William Morris wallcoverings, and since Morris & Co. felt like the right vibe for that style house, we just went with it and used those designs for every space." Additionally, mid-century style furnishings were incorporated, to illustrate the "youthful nature" of the Creel family in the 1950s. At the same time, of course, "mid-century, 1950s furnishings don't really fit the scale of a huge Victorian mansion," Royal clarifies, "so we blended the two; the new and the old, larger, carved Victorian pieces."
One piece of decor that fans might have glossed over? A more modern still-life painting that hangs in the dining room, which was a custom piece painted by on-set scenic artist Colin Crapser. "We wanted to foreshadow some of the other scenes to come in the show," with the rotting dining table of food mirroring what Chrissy sees right before she's killed, as well as "Hopper's "Last Supper" feast that he has in the Soviet prison right before he fights the Demogorgon." The design team also chose this painting because it felt "contemporary enough and [would] help update our otherwise kind of stuffy [and] ornate Creel dining room."
As for the Creel House's role in volume two of season four, Royal can only reiterate that "the house is central to Vecna and his backstory, and Vecna is very obviously central to 'Stranger Things' and the origin story for the show, so you can put two and two together. And that's all I can say!"