An asteroid-colliding mission gets a small spacecraft partner, a Swiss photographer spots a 'doughnut UFO' and the Hubble Space Telescope views a star's birth. These are some of the top photos this week from Space.com. 
LICIACube
In this image team engineers from NASA's Double Asteroid Redirection Test (DART) mission lift and inspect Italy's first deep space mission, the Light Italian CubeSat for Imaging Asteroids (LICIACube) cubesat. 
DART is designed to crash into an asteroid in an effort to help scientists learn if kinetic techniques can alter the path of dangerous space rocks in the future. LICIACube, seen here after it arrived at Johns Hopkins Applied Physics Laboratory (APL) in Maryland in August 2021, will take images of the crash and send the data back to scientists in Italy and the United States. One of the solar panel arrays on the satellite's wings is visible in this image.  
Full story: Meet LICIACube, the small but mighty spacecraft that will watch NASA's epic DART asteroid crash
'Doughnut UFO'
On Nov. 8, 2021, a photographer in Zurich, Switzerland took this image of what he described as a "doughnut UFO." 
A person who goes by the Twitter handle @Eavix1Eavix spotted this sighting the same night as SpaceX's Endeavor capsule reentry. The photographer thought he was watching Endeavour return to Earth with four astronauts aboard. However, when the capsule splashed down a little after 10:30 p.m. EDT that night, it landed half a world away in the Gulf of Mexico — more than 5,000 miles (8,000 kilometers) from Zurich.
Full story: 'Doughnut UFO' over Switzerland defies explanation
Perseverance's third Mars sample
The car-sized rover filled a titanium tube with the core of a rock with the greenish mineral olivine. This material is a magnesium iron silicate that also constitutes most of Earth's upper mantle. Perseverance collected its first two samples in early September from a rock dubbed "Rochette."
Full story: NASA's Perseverance rover on Mars just collected its 3rd sample of the Red Planet (photos)
Methane emission
The Canadian company GHGSat currently flies three methane-detecting satellites. With its resolution capability of 66 feet (20 meters), GHGSat was able to view plumes of methane leaking from a landfill in Spain. 
Methane is a highly warming greenhouse gas that is being emitted across the world. The greenhouse gas is 80 times more potent than carbon dioxide and it is leaking from gas pipelines, oil wells, fossil fuel processing plants and landfills all over the globe. 
Full story: Satellites discover huge amounts of undeclared methane emissions
Test-firing Raptor engines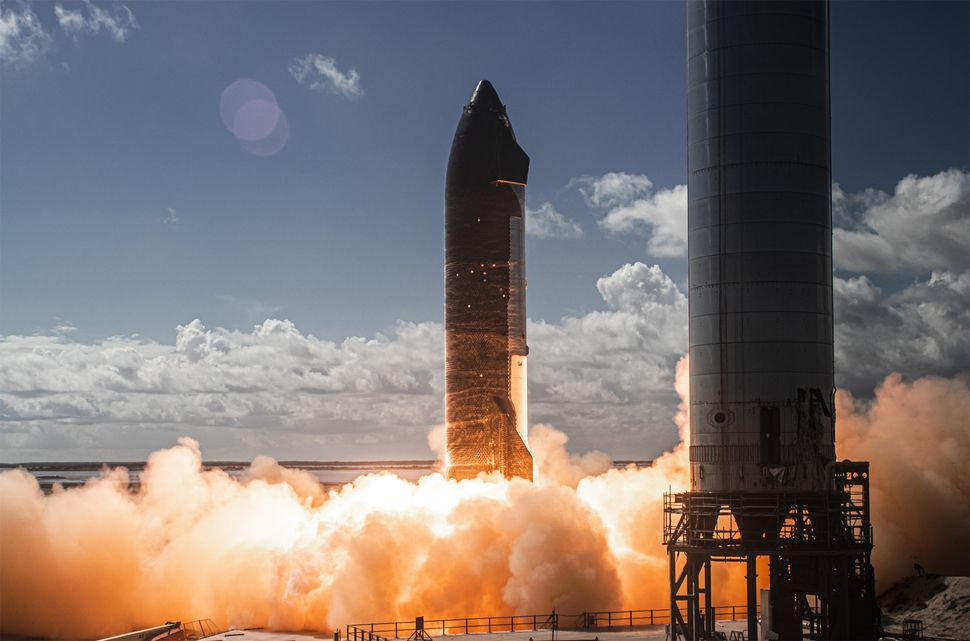 SpaceX test-fired its Starship SN20 rocket prototype last week (Nov. 12) at its Starbase facility near Boca Chica Village in South Texas. The vehicle's six Raptor engines are seen here roaring up during a test that lasted just a few seconds.
This was the company's first test to use the six Raptor engines simultaneously. Earlier tests of SN20 featured only two engines and the company's suborbital launches of previous prototypes had up to three. SpaceX is developing its Starship rocket and massive Super Heavy booster as reusable vehicles that can launch people and cargo to the moon and Mars.
Full story: SpaceX shows off epic photo of Starship SN20 engine test
Partial lunar eclipse
On the night from Thursday (Nov. 18) to Friday (Nov. 19), skywatchers across the United States and Canada, as well as Central and South America and parts of Australia, Europe and Asia caught a partial lunar eclipse. The event was historic because it was the longest partial moon eclipse in 580 years. During this week's lunar eclipse, the moon was 97% covered by the Earth's shadow and turned a reddish copper color. 
In the image above, astrophotographer Randy Dougherty captured the Beaver Moon lunar eclipse at its peak as it shined over Lake Michigan, near Ludington, Michigan, on Nov. 19, 2021.
Full gallery: Beaver Moon lunar eclipse 2021: Amazing photos of the longest partial moon eclipse in 580 years
Hubble spots a new star's birth
A new star just being born inside a distant cloud of collapsed dust and gas can be seen in this image captured by the Hubble Space Telescope. The protostar, with a not easy to remember name J1672835.29-763111.64, was spotted in one of the closest active star forming regions to our planet, the Chameleon cloud. This cloud, located in the constellation Chameleon, is visible in the sky from the southern hemisphere. 
The protostar emits light as dust and gas accumulates in the surrounding dust cloud. At a certain moment, the density and temperature of the accumulating material will be sufficient to trigger nuclear fusion, the reaction that sustains the life of stars. The leftover gas and dust can then give rise to planets, asteroids, comets, or remain as dust. — Tereza Pultarova
Satellites watch Canadian town hit by 2021 wildfires swamped by floods 
A Canadian town that spent weeks on evacuation alert due to this year's summer wildfires has been swamped by floodwater after two days of torrential rain. The extent of the flooding can be seen in this animation, consisting of before and after images of the area near Merritt, British Columbia, taken by the European Sentinel 1 satellite. 
All 7,000 residents of the town, some 125 miles (200 kilometers) northeast from Vancouver, have been evacuated after floodwater from the swelling Coldwater River completely overwhelmed the local wastewater treatment plant. The floods triggered mudslides in some areas, which killed at least one person. — Tereza Pultarova
Ariane 5 readied for James Webb Space Telescope launch
The Ariane 5 rocket that will lift the James Webb Space Telescope, the most powerful space telescope ever built, into orbit next month, is being readied at the European Spaceport in Kourou, French Guiana.
The rocket was raised into a vertical position in the past few days at the spaceport's launch vehicle integration building, awaiting the arrival of the solid rocket boosters that will help it off the ground with its precious 6.8-ton (6.2-tonne) payload. The launch of the James Webb Space Telescope is scheduled for Dec. 18. — Tereza Pultarova
Antarctica's fastest melting glacier dwindles in front of satellite's eyes
The Pine Island Glacier in West Antarctica is captured melting away in this time-lapse video comprising satellite images captured between 2015 and 2021. 
The Pine Island Glacier is Antarctica's fastest melting ice sheet and according to researchers has retreated by 11 miles (18 kilometers) over the past 6 years. The Pine Island Glacier alone is responsible for 25% of Antarctica's ice loss, thinning, receding and flowing into the Amundsen Sea at an accelerating pace. — Tereza Pultarova
Join our Space Forums to keep talking space on the latest missions, night sky and more! And if you have a news tip, correction or comment, let us know at: community@space.com.