Seattle Fixer Upper Filled With Colorful and Fun DIYs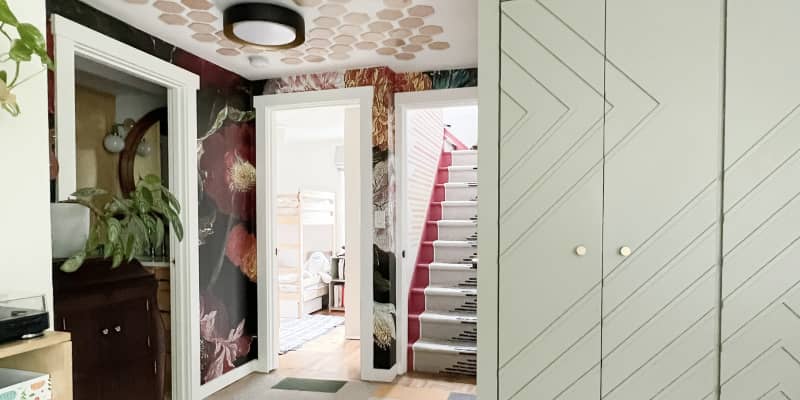 We independently select these products—if you buy from one of our links, we may earn a commission. All prices were accurate at the time of publishing.
Name: Michaela Dupkanic, my husband, two young kids (3 and 6), and the cutest dog there ever was
Location: Ballard — Seattle, Washington
Type of home: Bungalow
Size: 1,200 square feet
Years lived in: 13 years, own
Tell us a little (or a lot) about your home and the people who live there: We're only the second owners and bought [this house] as a fixer fixer fixer upper. It's been a slow going process while we spent the first few years updating the bones. But we also attacked functional things that brought us joy. First thing we did was remove the popcorn ceilings and refinish the original squeaky parquet floors.
We've spent a lot of time on our outdoor space, which we use as an extension of our house by building a fence, residing the garage, and adding a patio, deck, and a pergola. We mostly have garden beds in the back and edible landscaping around the house including an olive tree, a fig tree, blueberries, hazelnuts, goji berry, bay leaves, and your usual garden veggies. Now we spend most summer evenings cooking on the fire pit or in the pizza oven.
Recently, I've been able to focus on some projects that aren't about function at all. I want a mural in every room. I love them so much now. Paint especially is incredibly creative and freeing for me as is sketching building plans. I added a sun motif with square dowels and and embroidery hoop to my kids' dresser and painted it cheddar cheese yellow. There's just certain ideas, I can't help but shout "this is gonna be good" in my head. Bold black floral wallpaper and a wood hexagon ceiling treatment. YES. It's been so fun adding in so much layered color and pattern! I'm really loving it.
Currently I'm very into color and lots of it especially pinks, oranges, yellows, and greens. Wood to bring in warmth and stripes/graphic patterns have my heart. Oh and toys all over, but maybe that's not intentional. I want our home to be a reflection of the family that lives there and the way we live there. Being a small old fixer upper means we have to use every square inch. The three inches I had at the end of the entry closet I built, I made into a family command center. Function AND beauty are the goal.
Describe your home's style in 5 words or less: Colorful. Maximalist. Lived in. Evolving.
What is your favorite room and why? My stairs! They have a floor-to-ceiling gallery wall I'm expanding. There's art, family photos meaningful elements, color, and my favorite mural. I'm in love with the colors I used, inspired by my favorite pink jumpsuit and a dish towel I have reminiscent of sunsets. Most of the art is public domain art I printed at home, the frames gifted, thrifted, and IKEA, and a custom runner. I couldn't find the right width so I bought two 4×6 rugs I had my local rug cleaner cut down the middle and serge. It created the asymmetrical design I was after. I hide out there with my coffee some days. Other days, I take calls there and pretend it's my office. But every day, I smile as I walk past them. They are my mood lifter.
What's the last thing you bought (or found!) for your home? A rug I designed and made out of Flor carpet tiles. I used the 'Made You Look' style, which comes in 60 colors! I wanted something neutral but with graphic pops of color I already have in my home. Something easy to clean (have I mentioned the young kids?). I just couldn't find it and one night started sketching my dream rug. Then, I made it and best of all I can change my mind and rearrange.
Any advice for creating a home you love? Live in your home for a bit before changing things. Listen to your home, what it needs and make it yours. Don't be afraid to try something that doesn't immediately feel like you. Most decor is temporary (and reversible) so you can always change it, time and budget permitting. Most importantly, just do things that you love. It's your house.
This submission's responses and photos were edited for length/size and clarity.