I Tried This $49 IKEA Shelf for Shoe Storage, and Now I'll Never Use It for Books Again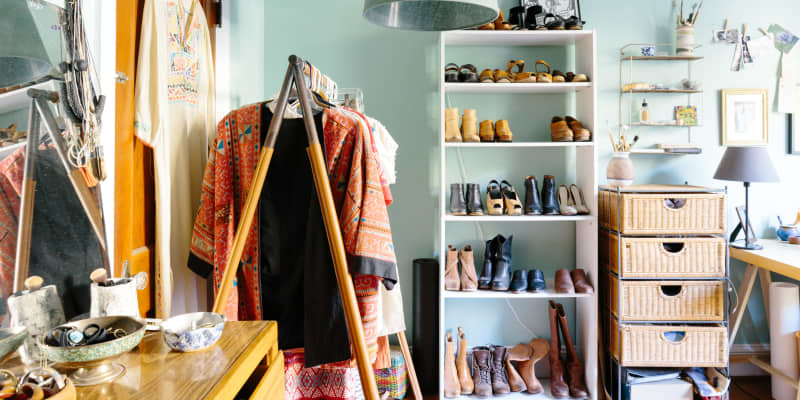 We independently select these products—if you buy from one of our links, we may earn a commission. All prices were accurate at the time of publishing.
When I moved to New York City in the summer of 2018, I could carry everything I owned in two suitcases. This arrangement worked well for me, as I battled apartments with funky layouts and zero closets (yes, you read that right… zero). After living in Manhattan for almost four years, I knew not to take storage potential lightly. The problem now, though, is that I have accumulated more stuff without more space.
During my current lease, my shoe collection grew considerably. To compensate, I began shoving sandals and boots into my reach-in closet until I was afraid to open the doors. Around the same time, I had a similar dilemma with my books. As much as I love the look of stacks of books around a home, it began to feel less like decor and more like clutter.
I wanted a budget-friendly alternative to custom closet organizers and shoe cabinets. As I googled organization tips, I realized I could kill two birds with one bookcase and some extra shelves. It was simple: Instead of books, I would display my shoes in my trusted IKEA BILLY Bookcase — the bookcase you know you've heard of and maybe even used before.
I had used this piece in my last couple of apartments but always for its intended purpose: holding books. Because books are more visually appealing than old shoes, I moved my overflowing library to a pair of floating shelves in the center of my bedroom and began putting my shoes on BILLY's perches. 
BILLY's about 15 inches wide and fit really well into the snug space near my dresser. This repositioning of my BILLY let me take advantage of vertical space, too, which meant I wasn't taking up precious floor space the way a more conventional, horizontal shoe rack would. I customized the height of the adjustable shelves for anything from high heels and boots to flat sandals, which I grouped together to maximize the amount of pieces I could store on any given shelf. I also purchased extra shelving and a height extension unit to accommodate further new shoe acquisitions. What can I say? I love to thrift, and I had no idea how compatible this bookshelf would be with shoe storage.
The simplicity of the bookcase's design works for almost any style — as do the three versatile colorways it comes in — making it pretty popular for a reason. Mine has been well-loved, and I've been impressed with BILLY's ability to be both reinvented (from books to shoe storage) and reconfigured (the individual shelves themselves and with add-one like the extension unit mentioned above) over the years.
As someone with ADHD, open-shelving for my shoes has been a design game changer. Being able to scan all of my options in one place has helped me combat a significant symptom of ADHD: a working memory deficit. If I can access what I need right in front of me, I can get ready faster. My favorite part of this shelf restyling, though? It feels like I live in a cute shoe boutique!