Here's How My Brooklyn Brownstone Made Me Fall In Love With NYC All Over Again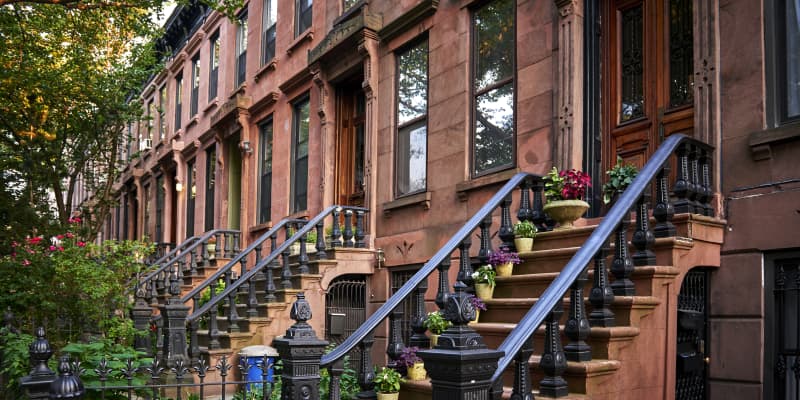 I've lived in New York City for nearly 20 years, and in the last decade or so, I've called some of
its coolest neighborhoods
home: Long Island City, the Financial District, and TriBeCa. My partner is a real estate broker, so he has insider knowledge and access that made it easier for us to find awesome places we could afford. In NYC, you basically have to make a blood oath to find a place to rent. 
Our apartments in those three neighborhoods were nice, but they were mostly cookie-cutter units where the same layout repeated on every floor. Think boxy rooms, lots of white and shiny finishes, and clean lines. I'd be remiss not to mention that it's a privilege to live in these types of addresses, but I also started to wonder how and why the soul of architecture got lost along the way. Some of these buildings' communal spaces have libraries chock full of — wait for it — fake books designed to fit into a color scheme. As a professional writer, this kills me inside.  
My partner and I realized we longed for a home with more charm and quirks. Something that felt intimate and unique, something less anonymous. We yearned for a community we could participate in and give back to in some small way. 
As a kid who moved a lot and lived for a few years in foster care, I didn't realize just how important the concept of home was to me until recently. As renters, no space is truly your own, so a home ought to give you some sense of belonging. I wanted an apartment with character, original floors, and details that would never be replicated in NYC's modern units. I believe that a home is not only what you make of it but what has been brought to it over the years. 
Our search for historical context brought us to our brownstone in Crown Heights, Brooklyn, a neighborhood I lived in years ago during college. The area has seen a lot of change, both good and complicated, but still has tons of diversity and personality. 
The brownstone is an NYC staple, especially in Brooklyn (although they're not entirely made of brownstone, as it were, according to StreetEasy. ) In the 19th century, the Industrial Revolution brought this material and vision to the forefront of construction, and its namesake home symbolized upward mobility.  
These properties are unique in that they're often outfitted with gorgeous long windows and ornate entryways at the top of tall stoops sometimes flanked by wrought-iron railings. The Italianate flourishes on the windows and along the walls were modeled after the Italian palazzo, or palace, and are full of elegance and a sense of bravado. Walking up the stoop into a brownstone always feels like an experience, since each one is slightly different.
I fell in love with our new apartment immediately. It has a railroad-style layout with glorious mantelpieces nestled in between Italianate columns, crown molding, Victorian pier mirrors, and original hardwood floors. I even loved its slanted ceilings, crooked doorways, and strange layout.
Two sets of bay windows adorn either end of the living room and bedroom, drenching the whole place in bright, soft light. One set looks out to a quiet garden where my neighbors' calico cat always naps under the cream-colored rose bushes. The other looks out to the street, where the rush of traffic makes me feel like we're enveloped in the city. For us, it feels like home. 
I daydream about the inhabitants who came before me, lighting fires at the now-defunct fireplaces. I picture how they must've styled their mantels. I envision afternoon teas and poised dinner parties as the street hums in the background.
I now have a sense of home that I haven't had in NYC before. Living in this space, I feel like I am a part of this city's history, or at the very least, a custodian of it. As a contemporary New Yorker stringing a WiFi cable through these crooked little rooms, I'm reminded of how past and present collide in this space of perpetual grandeur.