Classic Maximalist 600-Square-Foot Chicago Rental Apartment Photos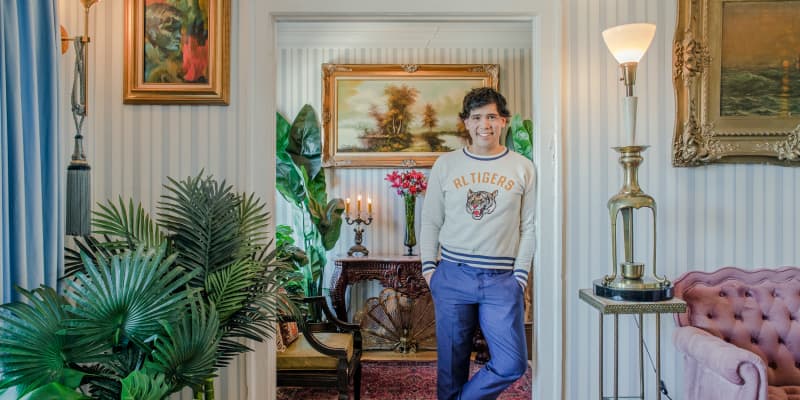 We independently select these products—if you buy from one of our links, we may earn a commission. All prices were accurate at the time of publishing.
Name: Johnny Coleman
Location: Lincoln Park, Chicago, Illinois
Size: 600 square feet
Type of Home: Apartment, one bedroom
Years Lived In: 2 years, renting
Johnny Coleman's 600-square-foot apartment might look incredibly expensive and decadent, but that's due to his design skills, not a massive budget. Johnny, who is an interior architecture BFA candidate at Columbia College Chicago, describes himself as a bargain hunter and reports that most of the furniture was either upcycled or revamped. "I am 30 and have been collecting antique furniture since I was 14 years old," Johnny says. He actually made the money to decorate this rental by selling upcycled vintage and antique furniture!
It's not just secondhand finds that Johnny used to designing this beautiful space — wallpaper plays a huge roll in decoration and in helping the space feel larger. He had the entire apartment wallpapered, even the bathroom. "The ceilings in my last apartment were 14-feet high. Here, they are nine feet. I chose striped wallpaper to stretch how high the ceilings feel," he says.
And while all the rooms are important to Johnny, the bedroom holds a special significance. "Although I am male, I don't believe in gender roles. This affects all areas of my life, but in my apartment, a great example is my pink bedroom," Johnny explains. Inside, there's pale pink-striped wallpaper and a pink seashell headboard. There's a fantastic antique mermaid sconce over the fireplace and a 1930s pink-and-green room divider with seashell scalloped glass windows. And his grandmother's pale pink lace drapes (that she made!) mix with touches of pale blue and sea foam green. "My bedroom is a sanctuary where I can be totally vulnerable but also safe," he adds.
Apartment Therapy Survey:
My Style: Decadent updated — classic maximalist.
Inspiration: I will only live in old buildings. Historic architecture and the feeling it fills me with is my deepest inspiration.
Favorite Element: My favorite thing about my current apartment is the wallpaper selection. 
Biggest Challenge: "Itty-bitty living space." The ceilings in my last apartment were 14-feet high. Here, they are nine feet. I chose striped wallpaper to stretch how high the ceilings feel. I am very pleased with how it turned out.
Proudest DIY: One of my creative contractors and I made my canopy bed out of a salvaged fireplace mantel. It's pretty bomb.
Biggest Indulgence: I splurged on a late 19th-century seascape painting, oil on canvas, by John Olsen Hammerstad, in a beautiful crazy ornate floating frame. It was totally worth it.
Is there something unique about your home or the way you use it? I positioned an antique room divider halfway into my eat-in kitchen. I use the eat in-area of the kitchen as my office in a way that feels very natural. People are always surprised that there is a kitchen behind my office.
What are your favorite products you have bought for your home and why? My favorite items I have invested in inside my home are my rugs and my antique oil paintings. They just give the space opulent yet warm vibes. They create a space that feels both imposing and intimate. I like to incorporate contrasting themes in a space.
Please describe any helpful, inspiring, brilliant, or just plain useful small space maximizing and/or organizing tips you have: When you have a small space it is important that you individually love every single item you bring into it. Don't waste valuable real estate within your home on items you feel lukewarm about!
My last apartment before this one had 14-foot ceilings, which I miss dearly. In this apartment I use striped wallpaper to stretch the perception of how high my current ceilings are. I am very pleased with the effect! If you try this be sure to use thinner stripes, no wider than 1.5 inches each at most.
Random tip: If you have a small bedroom like me, try to keep your mattress as close to the ground as possible. This will maximize the open space in the room and make it feel much larger. For instance, I have a bed frame but I chose to leave the legs off it when we put it together. The room feels so much bigger than it would otherwise.
Oh, also here's an easy trick: In tiny apartments fresh-cut flowers really open up the room feeling-wise. Try it, it's crazy what a difference they make.
Finally, what's your absolute best home secret or decorating advice? Your space is your special sanctuary. Your home is supposed to please you, not your parents, or your boyfriend, or your boss. Although, if you create a space you really love that is an honest expression of your personality and your needs, chances are the people in your life will love it, too.
Your home is a place where you go to recharge, take care of yourself, and get inspired for the next day. It should make you feel excited and enlivened and special. Because you are special. Especially in the U.S., we tend to judge beauty as vanity or as a waste or whatever. But I disagree. Waking up every day in a room that feels beautiful to me makes me feel excited to get out of bed. Having a home I feel excited about makes bad days more tolerable and good days that much better. 
This submission's responses and photos were edited for length/size and clarity.